Electric revolution is around the corner and here is presenting a collection for all those who want to stay updated about the NextBigWhat in Electric Vehicles and the Industry updates.
1.

Delhi drives push for electric vehicles in India
While countries in Europe and elsewhere have focused their EV subsidy efforts on car drivers, India has earmarked subsidies for 1m electric two-wheelers and 500,000 three-wheeled rickshaws, as well as 7,000 buses.
The plan envisages subsidies for only 55,000 cars — and they must be taxis or other fleet vehicles, not private cars. The market is being pursued aggressively by local Uber rival Ola, which this month raised $58m for its new electric mobility unit from investors including its US backer Tiger Global.
2.

Ather Energy ties up with Godrej's Nature Basket for setting up charging stations
Ather Energy which manufactures electric powered two-wheelers have signed a MoU with Godrej's grocery chain Nature's Basket to set-up electric charging stations.
Ather Energy would set-up electric charging stations at outlets of Nature's Basket, pan-India.
The first of such charging station is already operational at Sadashivnagar outlet of Nature's Basket in Bengaluru.
"For us, partnering with a brand like Godrej Nature's Basket was a natural choice for AtherGrid.
Their wide network and ease of accessibility allow us to offer to charge at locations that fit seamlessly into our consumers' lives.
We are excited about bringing newer locations for Bengaluru residents to charge their electric vehicles at and take the first step towards a pan-India expansion."
3.

Hyundai and Kia charge up Ola's EV initiatives with $300 million
While domestic cars sale has been languishing, app based taxi service providers are emerging as the new knights in shining armour for automotive companies.
To shore up the presence of their EV, Kia and Hyundai have announced an investment of $300 million in Ola. Kia and Hyundai would work with Ola to develop India specific EV solutions, built on the specification of Ola.
"Our partnership with Ola will certainly accelerate our efforts to transform into a smart mobility solutions provider" : Euisun Chung, Executive Vice-Chairman of Hyundai Motor Group
Well, this is what Elon Musk has to say.
Given Indian govt's max push on Electric mobility, maybe we can expect this to actually become reality by 2020.
5.

NTPC puts out tender for installation of EV Charging stations across the country
NTPC (National Thermal Power Corporation) which has already signed a MoU with leading cab services and aggregators like Ola, Shuttl and Zoom has has invited bids to set up charging stations for electric vehicles (EVs) including buses and four-wheelers, on a turnkey basis.
The successful bidder will have to supply, pack, forward, transport, store, install and commission the EV charging stations.
The firm will also have to provide maintenance services for ten years.
The last date for the submission of bids is April 23, 2019.
The techno-commercial bids will open on April 24, 2019.
6.

BOSCH and NIT Calicut to jointly work on bringing EV related technologies 'on road'
In one of the unique arrangements seen in recent times between industry and academia on new technologies, BOSCH India Ltd and NIT Calicut have joined hands to work on EV related technologies and bringing them in 'production'.
While Bosch will provide placement, internship projects and hands on training to the students of NIT Calicut, the institute will provide EV technologies to the company which could be put on to road.
"It's the responsibility of engineers, scientists, technocrats to develop low cost, high efficient electric vehicle transportation solutions to the general public at affordable prices.
Understanding the requirements, NITC has already started research and projects in developing EV technologies. DC to DC converter topologies, battery power management solutions, power train drives are some of the challenging areas where NITC has already started working."
7.

Finland's Flortum flocks to India to charge EV revolution
World leaders in clean energy are coming to India, since a slew of initiatives has been announced by the Central Government to power clean mobility in the country.
The latest among them is Flortum of Finland, the leader in electric vehicles charging in the Nordic region, where it has 3,000 charging stations.
The company has already put into operations 36 unmanned DC charging stations in Mumbai and Hyderabad suburbs, is planning to set up 700 charging points across India.
"We are constantly evaluating the Indian market for charging infrastructure. On our radar are the advanced cities with higher per capita incomes and people with greater disposable incomes. So, in addition to Hyderabad and Mumbai, we are looking at cities like Delhi, Chennai, Bengaluru, Chandigarh and Pune."
8.

OLA speeding towards custom made electric vehicles
OLA is intending to buy custom made e-vehicles suitable for it's operations (Special Purpose Vehicles), which would be primarily designed in-house. The vehicles are intended to have far better and efficient battery management system, which is critical for EV taxi operations.
Earlier it bought Mahindra & Mahindra's e-Verito off the shelf, and tested it in Nagpur but the project failed. And hence now it is ensuring that vehicles are custom made, according to it's needs and specifications, which could go long haul in taxi operations.
"The electric vehicles that Ola is planning to acquire will be low-cost and the number of features available will also be limited. The vehicles will be developed keeping in mind the needs of shared mobility. Though this is not at an advanced level, the company is in talks with different manufacturers," the person said, adding that "the recent round of fundraising also points towards the elaborate plans the startup has in the electric mobility space".
9.

Maruti to commission a battery plant by 2020
Maruti Suzuki India Limited is building a battery manufacturing plant at its Hansalpur complex and the plant is expected to be commissioned by 2020.
The Lithium-Ion battery plant will make batteries for electric and hybrid vehicles manufactured in India.
The company is currently testing 50 electric vehicles in India.
"We firmly believe that CNG and hybrid vehicles are most effective tool to reduce CO2. Suzuki will continue to introduce cutting edge hybrid vehicles with support from Suzuki Motor Corporation (SMC). We will continue to support Government of India's ambitious Make in India programme."
10.

Approved! National Mission on Transformative Mobility and Battery Storage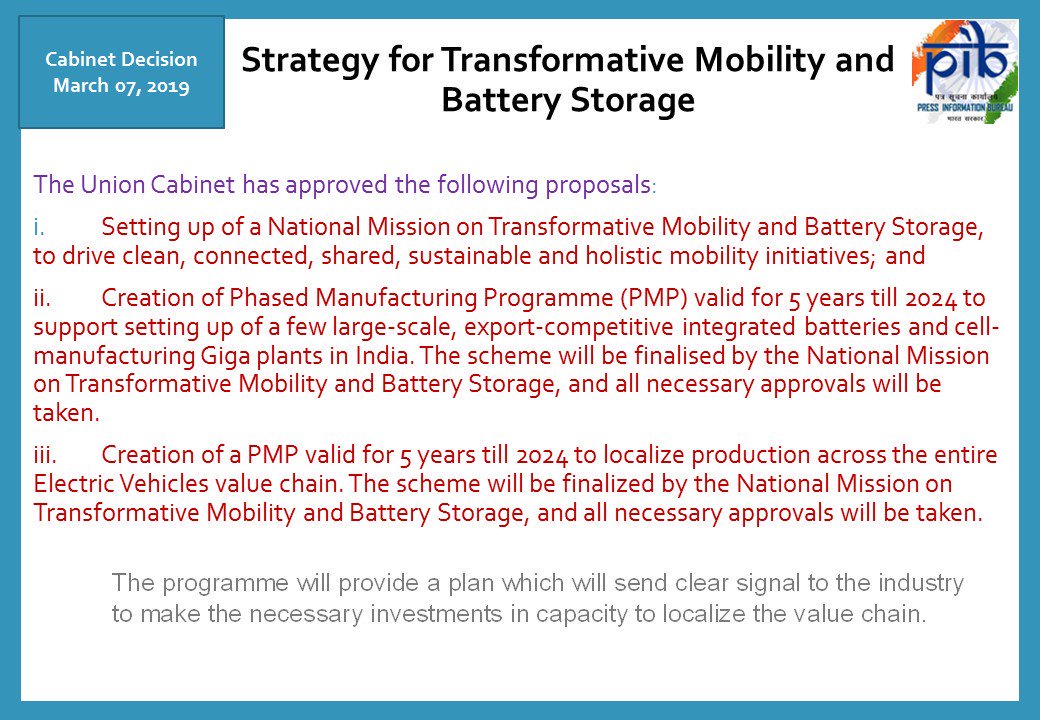 11.

Tata Auto Comp to bring Australia's famous fast DC charging stations to India
Tata Auto Comp, the auto components manufacturer company of Tata Group has tied up with Australia's Tritium Pty Ltd to bring it's famous fast DC (Direct Current) electric chargers to India.
Its Veefil-RT DC Fast Chargers are capable of charging full range of electric vehicles from two-wheelers, passenger vehicles to commercial vehicles.
Tritium has been involved with e-mobility and renewable energy solutions since 2001.
The company built the battery management system for the famous 'Deep Sea Challenger' which Hollywood Director James Cameron took to the bottom of Mariana Trench.
Company launched the world's smallest DC electric charger, Veefil-RT in 2013.
12.

Private electric four-wheelers left out of FAME II #Disappointing
Under the Rs 10,000-crore Faster Adoption and Manufacturing of (Hybrid) and Electric Vehicles (FAME) II scheme announced last week, subsidies will be given to only to three-wheeler and four-wheeler used for public transport or registered for commercial purposes.
There would not be any subsidy for new private electric cars, as speculated earlier.
However, in the case of two-wheeler, the private vehicles would gain.
Paucity of funds with the government could be cited as one of the reasons for the exclusion of private electric four-wheeler.
13.

In a 'first' in the country, NDMC sets up 25 charging points in Delhi for electric cars
For first time in the country a civic body has established electric vehicles charging stations, and NDMC has achieved this feat.
It has installed 25 new electric vehicle charging stations in Lutyens Delhi.
While the first two would be located Khan Market, other locations short-listed are Connaught Place, Gole Market, Jor Bagh, Sarojini Nagar Market and Yashwant Place.
These charging stations would not however support electric two-wheelers and e-rickshaws.
The users would be billed at Rs.9 per unit and it is estimated that Rs.162 worth of charging would be needed for a full charge.
Users would also have to book slots in advance, to avoid queuing.
14.

UP to operate 580 electric buses in 9 major cities of the state
Uttar Pradesh has plans of 580 electric buses to be put into operations across it's major cities.. As per the urban transport directorate, at least 10 buses in each of the cities will start operating by June 2019.
These buses will offer a range of 150 kms on a full charge and will have a top speed of 75 kmph. The charging time claimed for the batteries of the buses is around 30 minutes only.
The cities where electric bus would operate are Lucknow, Agra, Mathura, Kanpur, Prayagraj, Ghaziabad, Varanasi, Gorakhpur and Saharanpur.
The electric bus operations at Lucknow has already started.
Tata Motors has supplied the initial electric buses.
15.

BEHL is setting up solar powered e-vehicle charging stations on Delhi-Chandigarh highway
Under Department of Heavy Industry's FAME scheme (Faster Adoption and Manufacturing of (Hybrid) & Electric Vehicles in India), Bharat Heavy Electricals Ltd (BHEL) is setting up solar powered electric vehicle charging stations on the 250 kms long Delhi-Chandigarh highway.
The company has been expanding into e-mobility business and has already installed DC chargers at Udyog Bhavan in New Delhi.
BHEL would complete the project on an end-to-end basis which includes design, engineering, manufacturing, supply and installation of the EV charging stations along with a central monitoring system.
First of these charging station has been inaugurated.
16.

Delhi Cabinet approves 1,000 electric buses.
https://twitter.com/ArvindKejriwal/status/1101723391164329984
The Delhi Cabinet on Saturday approved 1,000 Low Floor Electric Buses for the national capital, claiming to be the first Indian city to have such a large number of e-buses.
Last July, the Delhi government gave in-principle approval for the hiring of a consultant to run 1,000 electric buses at an estimated cost of Rs 2,500 crore in the national capital as promised in its 2018-19 Budget.
17.

Karnataka Govt to convert half of government's vehicles used in Bengaluru to electric by 2019
Karnataka Government;s minister of State for large and medium scale industries, Mr. KJ George has stated that 50% of the vehicles used by government in Bengaluru would be converted to electric from Petrol and Diesel by the end of 2019.
The urban affairs department is also amending the laws, so that 10-20% of the space in current parking lots could be used for EV charging stations.
He was speaking at CII organised event called Future Mobility Show 2019.
18.

Presenting the 'Electric Bus Cities' of India
Electric bus manufacturers like Ashok Leyland, Goldstone Infratech, Tata Motors, JBM Auto, Solaris, BYD are all working with various state governments to electrify our public transport. Here's a list of the cities where the electric buses are already running on a trial basis or have started the full-fledged commercial operations.
Pune in Maharashtra,
Lucknow in Uttar Pradesh,
Shimla and Manali in Himachal Pradesh, 
Sabrimala in Kerala,
Dehradun in Uttarakhand,
Hyderabad in Telangana.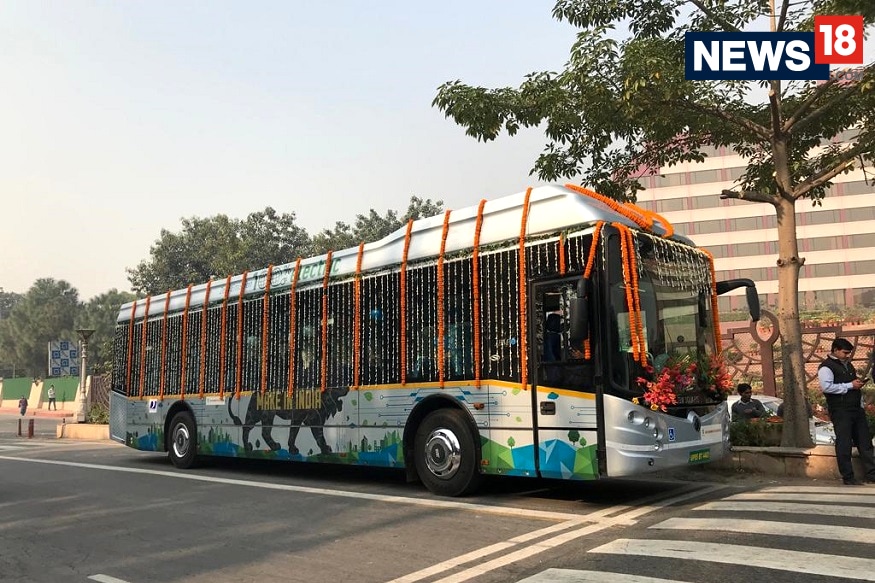 Is your city on 'electric public bus' bandwagon too, please add to the collection here.
19.

PMO advocates easier loans for electric vehicles
PMO has asked the Department Of Financial Services to devise tax incentives and faster depreciation for the buyers of electric vehicles in India. While the tax incentives would mean lower down-payment for the individual customer, faster depreciation is meant to entice organisations and companies to opt for an electric vehicle fleet.
The incentives would be applicable on e-rickshaws and e-Autos as well.
20.

Govt plans electric vehicles charging stations at every 25 Kms In India
Urban affairs ministry has amended the Model Building Byelaws (MBBL) 2016 and Urban Regional Development Plans Formulation and Implementation (URDPFI) Guidelines 2014, making provisions for establishing EV charging infrastructure.
The amendment states that long range and heavy-duty electric vehicles, there should be at least one station on each side of the highway every 100 kilometers.
As far as residential areas and city limits are concerned it calls for a public charging station should be on both sides of the highways or roads on every 25 km.