#21

BEHL is setting up solar powered e-vehicle charging stations on Delhi-Chandigarh highway
Under Department of Heavy Industry's FAME scheme (Faster Adoption and Manufacturing of (Hybrid) & Electric Vehicles in India), Bharat Heavy Electricals Ltd (BHEL) is setting up solar powered electric vehicle charging stations on the 250 kms long Delhi-Chandigarh highway.
The company has been expanding into e-mobility business and has already installed DC chargers at Udyog Bhavan in New Delhi.
BHEL would complete the project on an end-to-end basis which includes design, engineering, manufacturing, supply and installation of the EV charging stations along with a central monitoring system.
First of these charging station has been inaugurated.
#22

Delhi Cabinet approves 1,000 electric buses.
https://twitter.com/ArvindKejriwal/status/1101723391164329984
The Delhi Cabinet on Saturday approved 1,000 Low Floor Electric Buses for the national capital, claiming to be the first Indian city to have such a large number of e-buses.
Last July, the Delhi government gave in-principle approval for the hiring of a consultant to run 1,000 electric buses at an estimated cost of Rs 2,500 crore in the national capital as promised in its 2018-19 Budget.
#23

Presenting the 'Electric Bus Cities' of India
Electric bus manufacturers like Ashok Leyland, Goldstone Infratech, Tata Motors, JBM Auto, Solaris, BYD are all working with various state governments to electrify our public transport. Here's a list of the cities where the electric buses are already running on a trial basis or have started the full-fledged commercial operations.
Pune in Maharashtra,
Lucknow in Uttar Pradesh,
Shimla and Manali in Himachal Pradesh, 
Sabrimala in Kerala,
Dehradun in Uttarakhand,
Hyderabad in Telangana.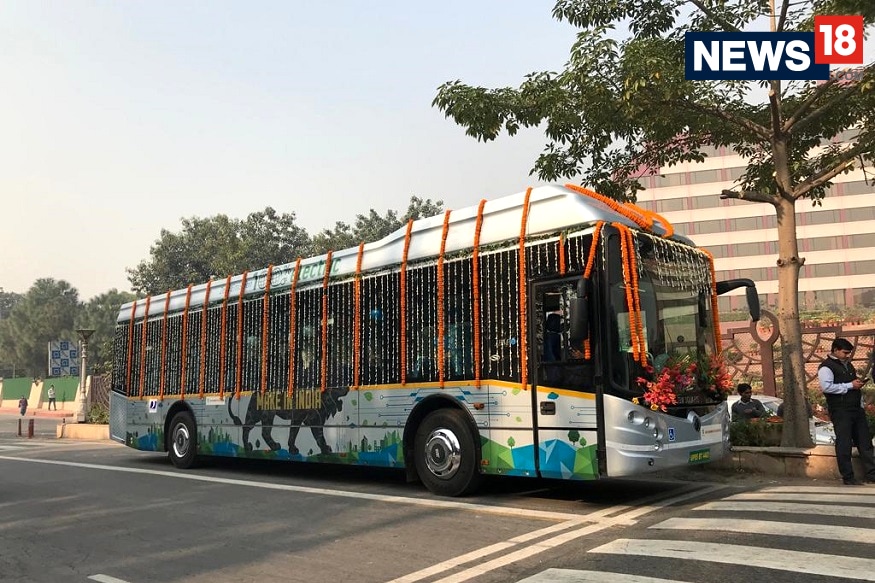 Is your city on 'electric public bus' bandwagon too, please add to the collection here.
#24

PMO advocates easier loans for electric vehicles
PMO has asked the Department Of Financial Services to devise tax incentives and faster depreciation for the buyers of electric vehicles in India. While the tax incentives would mean lower down-payment for the individual customer, faster depreciation is meant to entice organisations and companies to opt for an electric vehicle fleet.
The incentives would be applicable on e-rickshaws and e-Autos as well.
#25

Govt plans electric vehicles charging stations at every 25 Kms In India
Urban affairs ministry has amended the Model Building Byelaws (MBBL) 2016 and Urban Regional Development Plans Formulation and Implementation (URDPFI) Guidelines 2014, making provisions for establishing EV charging infrastructure.
The amendment states that long range and heavy-duty electric vehicles, there should be at least one station on each side of the highway every 100 kilometers.
As far as residential areas and city limits are concerned it calls for a public charging station should be on both sides of the highways or roads on every 25 km.
#26

Govt of India to give Rs.10,000 Crores subsidy on new electric vehicles
Government of India, as part of clean fuel drive would offer Rs.2.5 Lac subsidy for 60,000 new electric cars to be bought in next 3 years.
It would also provide Rs.20,000 subsidy for new 20,000 hybrid cars as well. The subsidy comes into effect from 1st April, 2019.
The total 'green stimulus' is worth Rs.10,000 Crores.
A lot of fund in this package are meant for electric two and three-wheeler vehicles and buses, e-rickshaw used for public transport.
#27

Mahindra launches 'electric vehicles only' cab-hailing service
Mahindra and Mahindra has launched new cab hailing service in Mumbai called Glyd.
Glyd would operate with only electric vehicles. Company's e-Verito cars would consist of the fleet.
The service is focused on office goers and has started with 10 electric vehicles. The service has been categorised as 'Premium'.
While the service would be owned by Mahindra, the fleet and drivers would be managed by a third party.
#28

Ola Electric raises Rs. 400 cr for its Electric Mobility business
Ola's Electric Mobility ambitions become more concrete with fresh funding for Ola Electric Mobility Pvt Ltd led by two of Ola's earliest backers, Tiger Global and Matrix India
The new company will be led by Anand Shah, a former senior executive from the auto industry, and Ankit Jain who headed Ola's connected vehicle platform.
The new business, led by Ola executives Anand Shah and Ankit Jain, has an independent charter to develop platforms and infrastructure to make electric mobility, a reality at scale. Building on various pilot initiatives and evolving market dynamics, the company is primarily focused on deploying charging and battery swapping networks focused on the commercial electric vehicle segment. Ola Electric has already partnered with several OEMs and battery manufacturers and intends to work closely with the automotive industry to create seamless solutions for electric vehicle operations.