mChek, the mobile payment startup now boasts of a million user base.
Here is a quick QnA with Sanjay Swamy, CEO of mChek.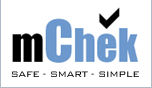 What are mChek's future plans? You are quite tied with Airtel – what kind of other players are you talking to?
Near-term focus is to roll out the services across leading banks (including Govt banks -  Corporation Bank, ICICI Bank, HDFC Bank for starters) for Debit Cards as well (currently the service is only on credit cards). Expansion across multiple merchant types is also on the cards.
Qn: What kind of challenges are you facing there? Do banks look at mobile payment as a differentiator or a lip service?
The general enthusiasm in the industry is very promising – like all technology innovations there are early adopters and those who wait for something to be proven. Mobile Payments is no exception – across banks, telcos, merchants and consumers, banks specifically see two opportunities:
Increased transactions through the electronic means for existing users
Lower and more affordable channel for customers who traditionally were un(der) banked
Qn: Coming back to Airtel-mChek relationship – how does the model works. Is there a rev share agreement between mchek and airtel on per transaction basis?
Our business model is pretty transparent – the telecom operator (Airtel) is a key business partner that is responsible for promotion, distribution and communication and we operate on a revenue sharing basis. mChek brings the banks and merchants on-board .Where the transactions are telco (prepaid and postpaid) the telco coincidentally is also a merchant having said that we also support customers of telcos where we don't have a direct relationship wtih the telco. So today, anyone with a mobile phone and a credit card can use mChek (however our preference is to work closely with the telco).