What I am hearing from multiple sources:
Meta is rescinding intern offers, which offers were for 2023 start dates.
This is a first in the history of the company as far as I'm aware.
My sources are both interns whose offers are rescinded, and employees within the company who were made aware of this rescinding happening.
Not terribly surprising given Meta did not extend new grad offers to most 2022 interns. Internships are a recruitment tool at Big Tech.
Rescinding these offers suggests that 2023 will, indeed see little hiring at Meta. You stop hiring interns if you're pretty sure you won't have HC to offer them to return a year later (or you're not 100% you'll have it).
THIS is the first in the history of the company in tech.
The intern offers rescinded were extended in April 2022 for the London office, interns due to start as early as Jan 2023.
Interns got the notification that they won't start. Note that 2023 US intern interviews have not yet started and no such intern offers are out as such.
These interns in London typically graduate summer 2023. Rescinding these intern offers suggest they would have not gotten return offers in 2023, which is in line with how 2022 US interns mostly did not get 2023 return offers.
Update: Meta is paying 1 month in compensation for interns whose offers was rescinded (previous tweet was wrong on 3 months, deleted & reposted this) This is a nice gesture.
I'm gathering more details, talking with sources.
One of the impacted interns (posted with permission).
Meta's intern hiring bar is high and all interns left hanging would more than likely be fantastic hires pretty much anywhere.
Original: https://www.linkedin.com/posts/yure-pablo_intern-meta-softwareengineering-activity-6983193207647936512-n853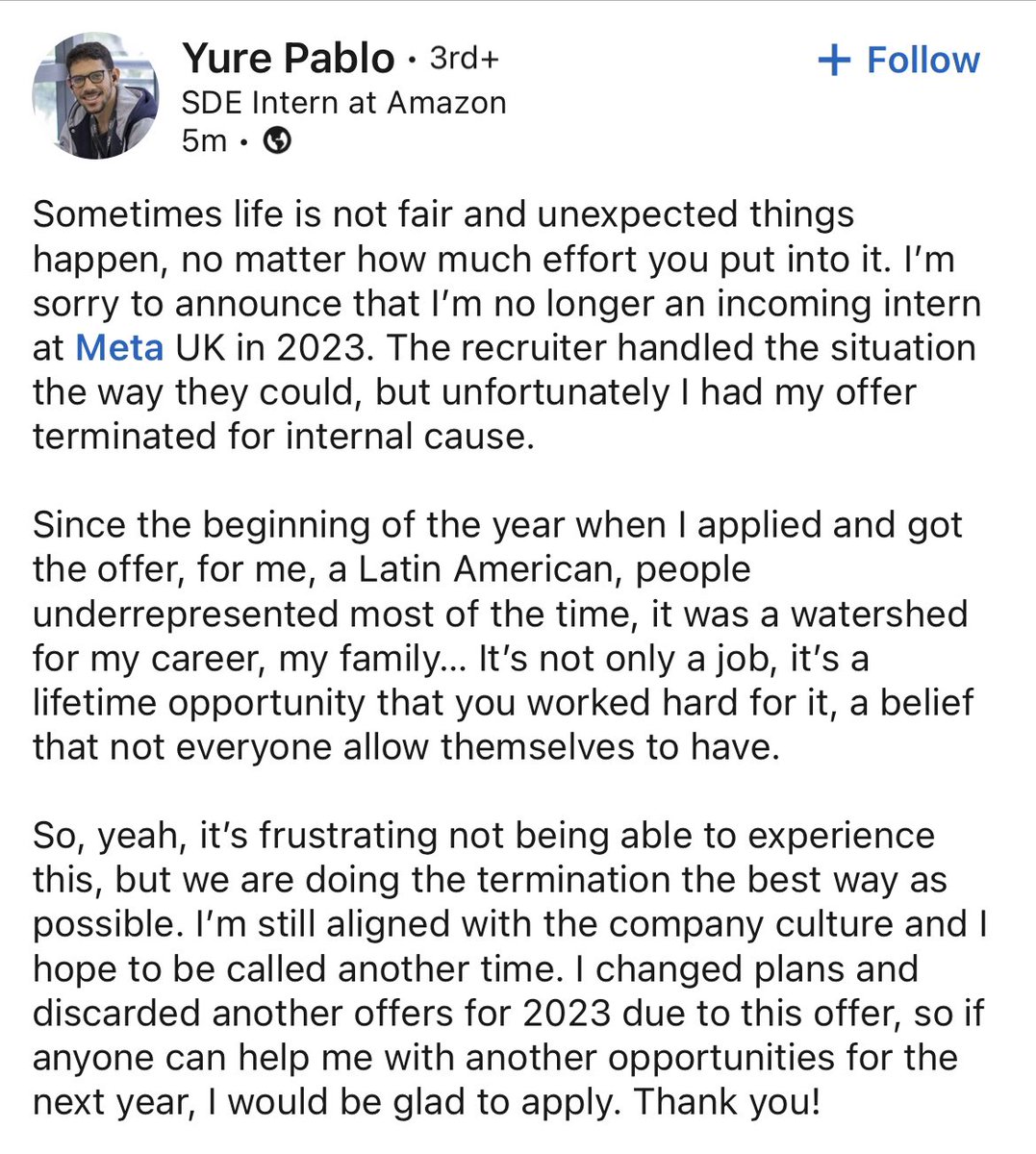 Follow: @GergelyOrosz
[
Via
]
[Via]