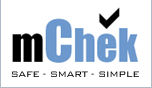 As promised earlier, here is our interview with Sanjay Swamy, CEO mChek. [his profile here].
The interview is split in two parts –
[A]. mChek and it's future plans.
[B]. Sanjay's views on Indian startups and Entrepreneurship.
If you have any questions, please leave them in comments section and we will request Sanjay to answer them.
Here we go:
[A] On mChek and Mobile Payment in India
Worldwide, Mobile payment hasn't taken off in a big way – Why do you think mChek has a strong chance in the Indian market, given the fact that Indians have not even fully embraced the Internet payment?
A successful mobile payments solution has got to be universal and simple to use. mChek caters to people from all walks of life and transactions across all types of merchants – over-the-counter, remote (Internet/call-center) and billers. It works with ALL today's phones – not requiring Java handsets/NFC chips. Our fundamental differentiator over competing solutions is our security model that complies with banking industry requirements – this is why we can work with debit or credit cards, although the initial launch is only with credit cards.
Specifically on the Internet, mChek truly eliminates some of the concerns of both merchants and customers around Internet payment – security and identity theft on the customer side, and fraud on the merchant side and we believe this will be a major initial adopter of the solution.
How do you plan to increase the product adoption – Given the fact that a very significant percentage of transactions are still in cash/cheque (and not credit cards)?
Each trip to the ATM machine costs a bank 18-22 rupees – so the overall benefit of a cashless society is phenomenal!
Cash/Cheque transactions are fundamentally bank transactions – you go to the ATM machine and withdraw cash, don't you! So as long as the money is coming out of a bank account – debit or credit – mChek can be applied. This will enable a vast majority of merchant transactions – although I do agree that consumers will take some time to switch habits where cash is a convenient alternative.
Who is your target market and what are the next payment merchants that users should expect?
Every consumer, every merchant should be mChek-enabled – that is our simple goal. The initial application we have chosen is bill payment and remote merchants because there is a compelling benefit over current methods – and over time over-the-counter merchants will also come into play.
Coming to the choice of test market – Why Delhi and why not Bangalore (affluent crowd with deeper pockets/huge spending/has already embraced Internet payment?)
Delhi is not the test market – it is the first market. This is a commercial roll-out of the solution – not a pilot! Bangalore and other markets will follow shortly – and yes, I do expect the uptake in Bangalore to be higher than in Delhi – however time will tell.
There are multiple BillPay service options available in the market – How is mChek positioned? And why should one use this service and not autobillers?
Anytime-Anywhere-Any Amount – from the convenience and security of your mobile. In other words with mChek, YOU are in control. We also allow mid-cycle payments if you have run over your credit limit and risk getting barred. We don't see auto-billers and other bill payment services as competition – rather we can augment their user experience with a more customer friendly solution. In the case of AIRTEL we are also updating their CRM system in real-time – so as soon as you pay your bill, it is posted! This is a unique capability that mChek brings – people love it!
When should we expect an India wide service? And more merchant tieups?
All in the next few weeks/months – stand by, exciting times are ahead. Several new merchant relationships with big brand names are going to be announced.
Can you share mChek's business model?
Right now the service is free to consumers – and will continue that way for a while.
How is mChek received so far? Would you mind sharing your user feedback/achievements?
The initial response has been very promising – users love the service and keep asking us for more merchants to be on the system, which is our next step along with the national rollout. Those who have used it feel like it's the next micro-wave oven – once you get it you can't imagine life without it!
[B]: On Entrepreneurship and Startups:
Sanjay, you have been involved with setting up Ketera's India office and now building the mChek team – What are the typical challenges that you have faced in building startup teams?
One nice thing with mChek is that it is "In India, By India, For India". Secondly it is a consumer play – everyone on the team has to realize that they are a typical user of the product! However the challenge is that we are in a booming economy with every large brand focusing on India – so competition is stiff, not just for building the team but also for marketing attention among partners and consumers.
How do you think startups can compete with well-known players [like Y!/Google etc] when it comes to talent hunt? [sky-rocketing salary, better infra/brand name] – Do you really think Indian IT crowd is coming out of it's comfort zone and is ready to take a plunge?
If we are competing for the same talent, then one of us is making a mistake – because the talent that would naturally fit in a startup is a misfit in a big company, and vice versa. In a startup you need to have a disruptive mindset – in a big company you need to be creative but work within a relatively more rigid framework. Google is perhaps an exception to the rule to some extent. As far as being able to compete with such companies, from a talent perspective – I think ONLY startups can compete with such companies.
If you have a dream to build the next Google or Amazon or eBay – then do your own startup, or better still, come join mChek!
Your advice to entrepreneurs?
Make sure you're having fun – give it everything, and aim for the stars. There is no point being an entrepreneur if you want to take the company to the next stage – the only play that matters is an all or nothing play. However don't go in expecting a quick hit – the goal is to build a company over several years and a lot of pretenders will start and drop out over time – 90% of being an entrepreneur is persistence and grit, and if you don't have the courage and conviction to hang in there, then don't enter the ring. I personally am a big supporter of entrepreneurs.