This is how you f**king change the world #StartupRooots
April 21, 2013
2013-04-21 17:45
This is how you f**king change the world #StartupRooots
This is how you f**king change the world #StartupRooots
So when we announced #StartupRoots, there was a general hush-hush talk among the tech startup community that 'even NextBigWhat has gotten into this cheaptricks of 'come and get funded'.
Ofcourse, the skepticism was valid. Not a single 'come and get funded' event in India ever focused on getting funded (they always focused on the 5 digit entry fee).


But then, we walked the talk. When it comes to supporting startups, we are always their first set of customers. When it comes to getting them funded, well – we got all four startups funded.
On the stage.
Live.
4 Startups. 
And that's awesome!
4 startups (2 from Bangalore, 1 from Kolkata, 1 from Mumbai) raised the money. Pretty much at their terms and conditions.
And that's seriously awesome!
First time ever in India (or world?) wherin the angels met/saw the bplan for the first time on the stage and the entire deal was closed within 20 mins of the presentation.
That's f**king something!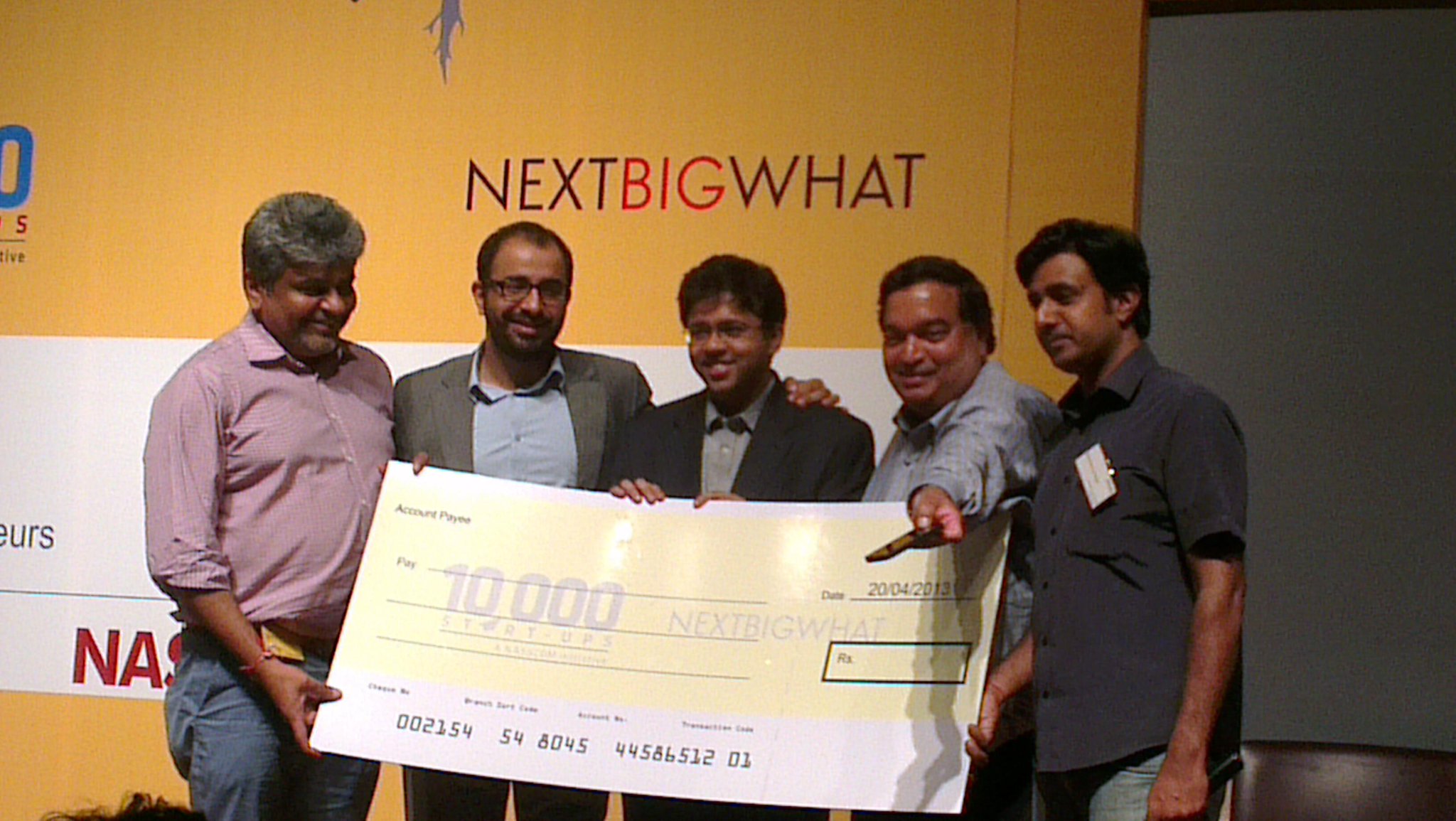 So how did this happen?
The entire event was organized within 5 days of notice. NextBigWhat and Nasscom team started working on it [we announced the event on Tuesday, as the venue was booked on Monday evening :)].
We got more than 200 startups to apply for the event (and 850+ registrations!), out of which 4 were selected to pitch. To those who couldn't make it, please understand that this is not any comment on your business plan/product – we just looked at a lot of parameters (for e.g. we couldn't take companies who were looking for ~INR 2 crores funding, as it was beyond the scope of this event).
Ofcourse, to those startups whom we talked to and who weren't comfortable discussing valuation/equity in front of 600 people, you missed it!
Our Sincere Thanks to..
In no particular order:
Speakers:
Virendra Gupta (NewsHunt), Varun (Almamater), Kunal Shah (Freecharge), Krishna Kumar (CEO, MindTree & Nasscom chairman) for sharing your insights in a very UnPluggd fashion.
Sharks:
Rajan Anandan : The man lived up to his reputation of being the most active angel in India. And importantly, for being 'tough' on us to ensure that we make the event super exciting!
Ravi Gururaj, Anirudh Suri, Ramesh Shah, Pankaj Jain and other sharks who actually lived up to 'our promise' – i.e .of investing in startups.
Friends
Mukund Mohan, for playing a great friend and a great support. Always!
Team Nasscom for being an awesome partner! Ofcourse, #StartupRoots is a joint initiative between us.
Team NextBigWhat : Well, no words can describe how the team pulled this through. Thanks JPK, Sameer, Ankur, Vidhi, Aral (turned up inspite of a broken leg), Jai, Prabhdeep and Anand.
The audience : for being a super cool audience. We love you all!
NextBigWhat?
Yes. We take a lot of pride in creating this difference to the ecosystem. This is how the angel investment should be. Say NO IN 20 minutes. Say YES in 25 minutes.
That's it.
You don't create a difference by talking, by doing press releases, by yapping around 'WHY WE DON"T HAVE <fill in some fucking blanks with words like angel investment, early adopters etc etc> in India'.
You create a difference by risking it all. Now, imagine if none of the companies managed to raised funding at #StartupRoots? You all would be laughing at us. Isn't it? A lot of NextBigWhat haters would have had a great time! 🙂
And that's why we risked it all. Because we believed in the honesty of things and were committed to make it happen.
Again, sincere thanks to our partners, all sharks, both NextBigWhat & Nasscom team, and to the super energetic audience.
Thanks,
Ashish.
On behalf of team NextBigWhat.
PS: We have earned the right to use a few effing words. So please take it easy :D. F**king easy. Okay?
Image credit.

–
Update: Details of all startups who got funded (+ terms/conditions)